瞓覺 是由摄影师Tony Chan 設計打造的中山新創意民宿 是城市泛客房概念的延伸   瞓覺應該是這樣 在戶型設計和設施配套上花心思 注重舒適感 形式感 私密感 為客戶打造新概念的入住體驗   瞓覺應該是這樣 在這裡你可以 拍攝一組美的照片 安靜的閱讀一本書 與好友一同睇波 打機 瞓覺目前擁一間客房 還很年輕 還有很多不足 但是 我們會繼續完善 繼續加油 今天 很大的幸運 我們的客房受到了您的喜愛 真的衷心的 想對妳說 謝謝妳:)
What guests are saying:
"The room is too beautiful! ! So special~ It's the tatami I love! As soon as you enter the door, you can see a lot of memories left by previous guests~ Many memories on the message board~ The movie ticket concert ticket is so affectionate! ! The light inside the air conditioner water heater is actually to be called by the Tmall Elf! I really have to sigh the high tech now! The landlord is also super nice! Well done the hygiene in advance and let us stay! Zan Zan Zan is also very enthusiastic! ! Absolutely! ! right! ! The landlord also sent postcards exclusive to our homestay! ! Don't like it too much "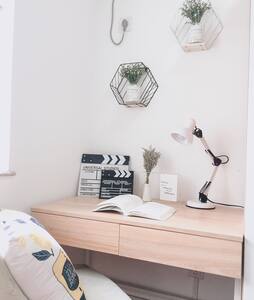 SUPERHOST
Private room · 1 guest · 1 bed · 1 shared bathroom
2「腾讯滨海大厦「海岸城「后海地铁站「深圳湾「来福士「南山书城站」花园社区套房内15㎡温馨小屋
Romm ₂ 房屋内书桌,椅子,床,衣柜,空调全部都有,而且很新。大厅有餐桌,有一排零食柜,里面放着饼干,泡面,薯片,螺蛳粉等可一起享用。房屋内布置温馨,房间门装密码锁,安全隐私。无论您是来这边游玩或是工作,长期住或暂时住。这个小屋一定能给您一个家的感觉。 在说下地理位置,出行方便,配套设施齐全,地铁9号线南山书城站走路5分钟。楼下就是一个小超市,马路对面就是海岸城商城,和茂业百货。楼下也分布很多公交车站。 Ps:11号线南山地铁站D出口和2号线后海地铁站D出口打车来小区可报销!!!!!
What guests are saying:
"Great location, easy to get about the city and close to the CBD and the fancy malls and good bars in Nanshan district. The landlord Chen is very nice, responsive and hospitable. Price is reasonable and the apartment is nicely furnished. A five-star host. I strongly recommend to book with Chen."
Yangshuo sudder street guesthouse is run by a Chinese husband-Japanese wife couple Dongdong and Axiang. We met each other in Sudder street, a famous place for international backpackers in Kolkata of India.
What guests are saying:
"The little guy at the front desk is so handsome, he was very embarrassed to interrupt him to open the door for us in the middle of the night. The young lady is also very hospitable, introduces the place where we play, and then the environment here is very good, the swimming pool is also great, in short, it is great value, I recommend everyone to stay~"