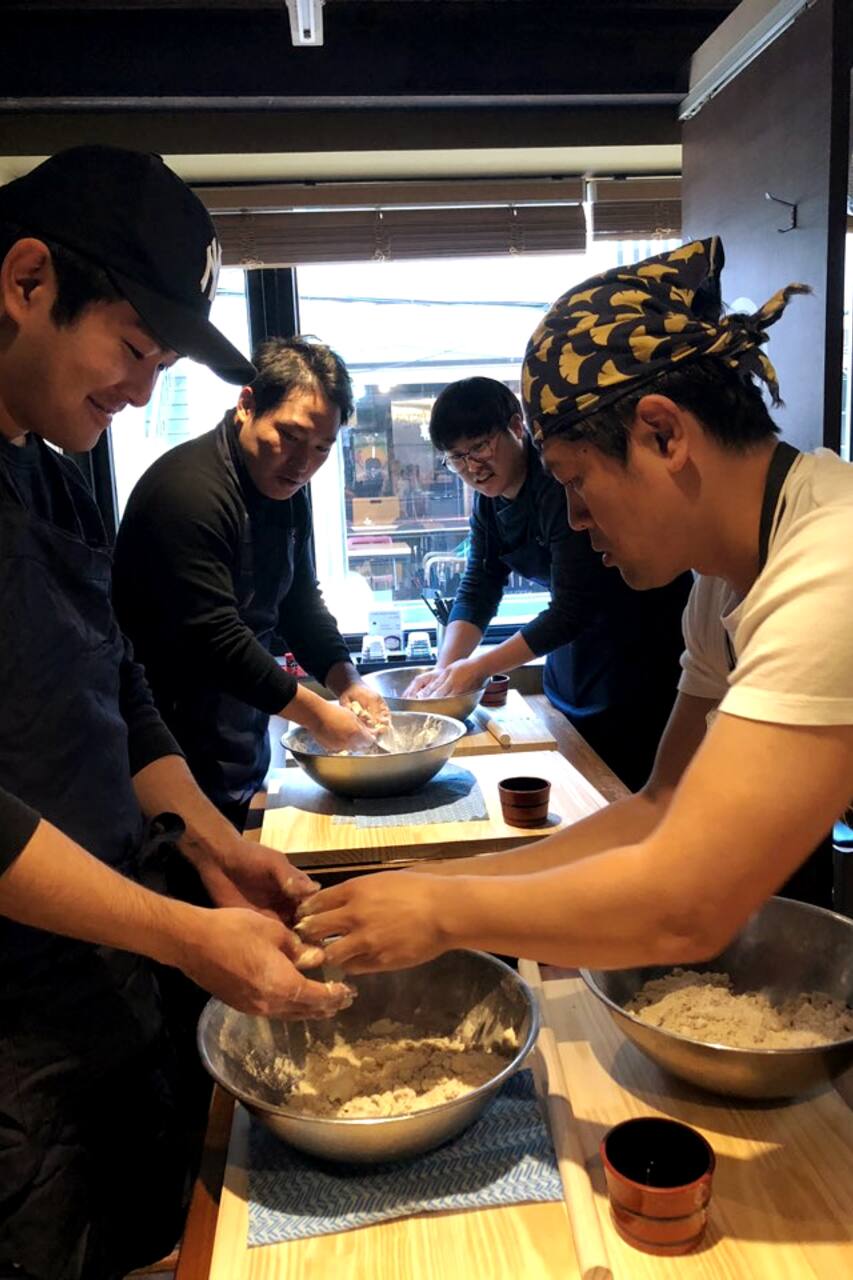 Includes:
Food and Equipment
Languages:
Offered in Korean
안녕하세요!! 저희는 홍대에서 자가제면으로 일본식소바식당을 운영하는 한일부부에요. 저희 남편은 일본에서 조리학교를 졸업했고 재학중 수타메밀집에서 기술을 배웠어요. 그리고 저는 일본유학중에 있던 남편과 만나 결혼해서 서울에 산지 13년이 되는 일본인이에요. 그 남편이 여러분에게 맛있는 메밀국수를 만들수 있게 클래스를 만들어보았어요. 특수한 기술이라 어려울수도 있지만 소규모클래스이니 저희가 옆에서 계속 지켜보고 잘 도와드릴거예요. 요리왕초보이신 분들도 칼질이 안되시는 분들도 걱정 안하셔도 된답니다:) 메밀달인과 함께 즐겁게 수타메밀국수를 만들어보세요!!
저희가 운영하는 메밀국수식당 오비야에서 진행됩니다. 오시는 순서로 메밀차를 마시면서 서로 인사도 나누시고 앞치마를 해서 준비하시고요. 약 1~1.5시간 소요해서 메밀가루를 소바로 만드는 가정을 설명/실습과 함께 직접 체험을 해보실거고, 제가 계속 보조를 해드릴거예요:) 다 만들고 나면 본인이 만들어본 국수와 달인이 만든 소바면을 삶아서 맛있게 시식해보실 거예요. 조금 못생기더라도(!) 본인이 만든 메밀국수는 각별한 맛이 나실거예요. 초등학생부터 어르신까지 남녀노소 누구나 즐겁게 할 수 있는 체험이 되시도록 진행하겠습니다!! *메밀/밀가루 알레르기가 있는분은 참가가 불가능 합니다. *기타 음식알레르기가 있는분은 미리 상담/문의해주세요.
Food
만들어본 메밀국수: 본인,함께 오신 분,달인이 만든 소바면을 다같이 시식
Navigation section for review pages
저희가 운영하는 식당 오비야는 2010년에 가로수길에서 시작했고 2015년에 홍대로 이전해서 지금까지 하고 있어요.수타기술로 각종 TV프로그램(생활의 달인,맛있는 녀석들,생생정보통등등)에도 소개가 여러번 된 맛집이에요. 메밀달인의 기술을 직접 보고 배우는 특별하고 유일한 체험이 되실거예요.
Any experience can be canceled and fully refunded within 24 hours of purchase.
Always communicate through Airbnb. To protect your payment, never transfer money or communicate outside of the Airbnb website or app.
Up to 6 guests ages 8 and up can attend.