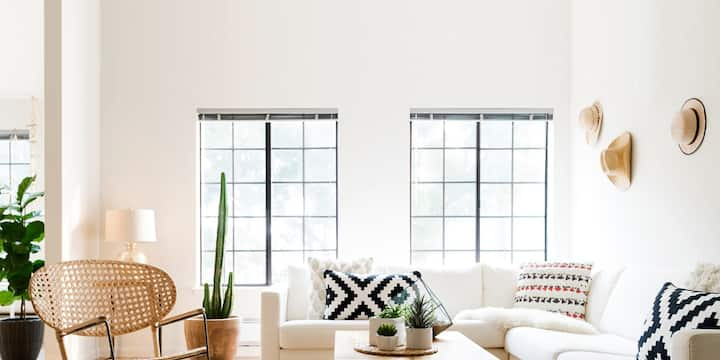 Find homes for Oktoberfest Muenster on Airbnb
Discover entire homes and private rooms perfect for Oktoberfest Muenster
Homes near Oktoberfest Muenster
Homes near Oktoberfest Muenster
Places to stay near Oktoberfest Muenster
Places to stay near Oktoberfest Muenster
This Country Cottage provides privacy and tranquility. Located 1.0 mile north of Muenster. Queen size bed, TV, refrigerator and coffee maker, spacious and private bathroom with jacuzzi tub. WIFI limited - ask host for details. Complimentary Continental Breakfast included. Close to local attractions: Turtle Hill Golf Course, Local Antique Malls and Shops, Ancient Ovens, Local Wineries, Winstar Casino and Golf Course.
Room Type
Private room
---
Property Type
Guest suite
---
Accommodates
2
---
Bedrooms
1
Muenster, TX, United States
Cozy eclectic newly refinished space where functionality meets modern comfort. In a quiet neighborhood. Close to local attractions including wineries and downtown niche shopping with meat markets and antiquing. Muenster is known for its German catholic heritage and sponsors the Germanfest and Wurstfest. Walking distant to local churches or anywhere in town for that matter. Home has spacious backyard with patio sitting area that has a fire pit for chilly sunsets. Equipped for relaxation!
Room Type
Entire home/apt
---
Property Type
House
---
Accommodates
6
---
Bedrooms
2
Muenster, TX, United States
READ ALL HOUSE RULES BEFORE BOOKING: "Big Tex" is a little cabin with a big heart! Overlooking the Red River Valley just North of D/FW, there are 50 acres to hike, walk & pray. Touches of red create a reflection of its name honoring this great state. The covered porch extends the living area where guests get a view of the Red River Valley. "Big Tex" is set up for quiet evenings enjoying beautiful Texas Sunsets. PERFECT rest-stop on your journey to find healing REST & RESTORATION!
WELCOME TO RAPHA RIDGE!! Before describing this destination retreat, please note we are only set up for very specific sojourners and may not be the best place for you ... READ ALL HOUSE RULES & INSTRUCTIONS; and contact us with any questions BEFORE BOOKING. For example, if you are in our area for a specific EVENT (wedding, concert, etc.), we would not be the place for you! As described, we are extremely remote, difficult to find in the dark, and our roads are not suitable for more than one trip in and/or out per day. IF THERE IS ANY INCLEMENT WEATHER, we cannot guarantee access in or out of the property which would be a problem in light of a scheduled event. (we recently had a guest turn down a wrong road and it took 2 hrs to pull them out!). IF YOU HAVE PLANS AT THE CASINO, we are not the place for you - not only are we an hour away, we also have a strict curfew which does not work with the casino events. PLEASE RESPECT THIS. You will drive through 7 neighbors properties to get to us so our curfews are out of respect for them. IF YOU NEED A LATE CHECK IN, we are not the best fit for you since our backroads are not marked and difficult to find after dark. (We recommend rooms available at Historic Texas King's Hotel in Saint Jo or Turtle Golf Course Cabins in Muenster). GRAVELED ROADS with STEEP INCLINE: Like any "mountain hideaway", we are off the beaten path; so again, if you are planning multiple daily trips to town, we are not the place for you! TRIPS OFF PROPERTY MINIMIZED TO 1x/DAY. County roads to property are graveled, and our 1.5 mi private gravel drive is somewhat steep. 4WD VEHICLES ARE IDEAL BUT NOT REQUIRED. So far, we have had no problems with vehicle access when driven in LOW OR 2nd GEAR; but when you book, you are releasing us of responsibility of any issues with your vehicle, especially if inclement or icy weather. MESSAGE US WITH FURTHER QUESTIONS. ALCOHOL-FREE, TOBACCO-FREE & PET-FREE cabins & property for liability reasons: If this is a problem, we are not the place for you. (There are beautiful award-winning wineries only a few miles away open Thurs-Sun). IF ALL THESE SPECIFICS ARE NOT AN ISSUE, PLEASE READ ON... Rapha Ridge overlooks the Texas Red River Valley, a remote location where you can enjoy the Father's creation & soak in the His Presence. Rapha Ridge offers 50 wooded acres to hike, walk & pray + a cozy cabin for guests to receive spiritual REST & RESTORATION! HIGHLIGHTS of your stay: CABIN: "Big Tex" Cabin is the largest of 3 cabins overlooking view of Texas Red River Valley at Rapha Ridge Retreat. Because of its added amenities like a washer/dryer & full size kitchen, Big Tex is perfect for extended-stay guests or missionaries on furlough. This cabin comes with a fully stocked kitchen with range oven, refrigerator, W/D, bathroom with tub/shower, sofa seating (convertible twin futon), queen bed with memory foam mattress + sleeping-loft for 2 adults (3 children) with step access. Gas grill for cookouts & large covered porch for dinners at sunset. (Ask about MILITARY, MISSIONARY & MINISTRY DISCOUNTS.) PROPERTY: Relax with Spectacular views of Texas Red River Valley from porch of each cabin for reading/relaxing with some coffee or sweet tea & a large balcony at the Retreat Center for small group gatherings or for guests just wanting to gaze at the stars. Under the balcony is a fireplace to enjoy cooler evenings. There is a Gazebo as an alternative outdoor eating, devotional spot & the perfect sunrise spot for early risers! Hiking - There are 50 tree'd acres to hike, pray, & explore. You will need good shoes for exploring/walking (hiking shoes if you have them). We have bug spray for ticks/mosquitos at the meeting house & at each cabin. NEW HOT TUB - BRING YOUR SWIM SUITS!! Brand new hot tub overlooking the Red River Valley. Or even better, wait until dark and enjoy a relaxing water massage under the stars!! (Beach towels provided, but you may want to bring a robe to stay warm walking back to car or cabin.) DVD's/BOOK NOOK: We want guests to be as free from as many distractions as possible so we do not have WIFI or cable in the cabins. However, we do offer a LIBRARY OF BOOKS & DVD's at Retreat Center for relaxing on rainy or extra hot days (or bring your own!). WORSHIP: For guests with PANDORA, check out "Rapha Ridge Radio" ... a unique Folk Christian Coffeehouse sound: http://pdora.co/1otSqf4. We also have CD players in each cabin for listening to your favorite relaxing tunes or the ones provided in your cabin. ASK ABOUT OUR BLUETOOTH SPEAKER if you have a special set of tunes on your phone/tablet. INTERNET: The Retreat Center also has a huge porch with a great view where internet USUALLY reaches. (We are remote!). It is very slow but fine for an emergency email. We ask that you not upload or download movies, games, etc. while here due to the limited speed & data. There is a coffee shop in Muenster (about 12 min from here) with unlimited high speed WIFI if you need it. FINAL NOTE: Since we just recently built the Main House/Retreat Center & moved the cabins, you will notice multiple unfinished projects! We're a work-in-progress, but it shouldn't keep you from having a good time!!
Although technically we are located in a neighborhood (River Ridge Estates), with 50 acres to walk, pray & explore, you will most likely never see a neighbor!
Room Type
Entire home/apt
---
Property Type
Cabin
---
Accommodates
5
---
Bedrooms
1
Saint Jo, TX, United States