Hiii I'm Libby, born and raised here in this beautiful city. I have studied and lived in both the United States and London for over 8 years, and I've traveled tons of places while stayed at many great Airbnb houses. I've truly inspired by some amazing hosts and their lifestyle, which is why I want to bring that kind of spirit to Chenzhou and to whom visit this city.
What guests are saying:
"Located in Chenzhou Wuling Square, a hundred meters downstairs there are Wal-Mart, Frog Laida and other food and shopping places. It is also very convenient to the prosperous areas such as Shengyuan and Youah International. The houses and photos are true to life, the design style is simple and feels, the landlord is also a very stylish person, and the furniture and daily necessities are also used well. All in all, the price / performance ratio is very high! There is also a floor-to-ceiling window in the room where you can relax from afar. In addition, the host is warm and friendly and highly recommend everyone to come."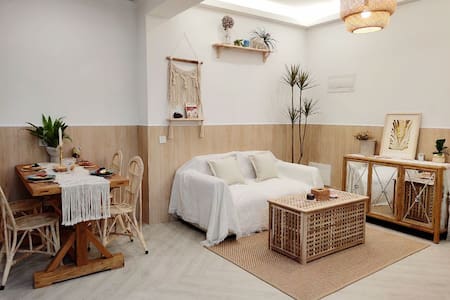 SUPERHOST
Entire flat · 3 guests · 2 beds · 1.5 bathrooms
「浅兮民宿.微光」法式小众艺术气息唯美民宿 郴州旅游 私房艺术摄影 维多利亚购物广场 五岭广场商圈
Reservation Information: This room is a 2-room house, normally suitable for 1-3 adults, the main bedroom is 1.8 meters double bed, the second bedroom is 1.2 meters single bed, when you normally stay for 1 to 2 people do not need to open For the second bedroom, you will be charged according to the normal booking price. If you need to add 1 more person or need to open the second bedroom, you will be charged 60 yuan for the extra passenger. , The number of occupants does not match the number of people booked, the second bedroom is not open, please be aware of this matter before booking, thank you for your understanding and support.
What guests are saying:
"A great experience, the location is very quiet, and the surrounding environment is also very convenient. As a photo shooting room, models and friends praise the room atmosphere is great! Looking forward to the next cooperation again hahaha"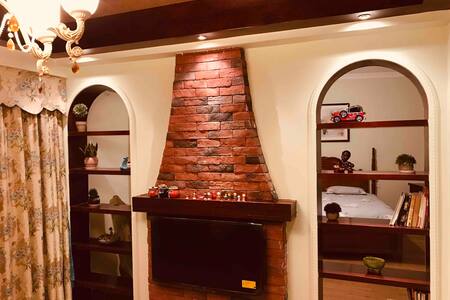 SUPERHOST
Entire flat · 2 guests · 1 bed · Toilet with sink
【梵丽.美宿】65平米一室一厅。美式乡村风格居家生活气氛。市中心五岭广场燕泉广场、交通方便生活便捷。
自助入住。室内风格独特,家具尊贵高雅。精致装修,美式怀旧经典风格,特色红砖壁炉背景,高档美式风格家具,喜盈门高档睡眠床垫、梦洁全套家纺,梵高艺术作品挂画,小米电视,有100兆光纤高速网络,24小时随时有热水。郴州自然景区有5A景区:东江湖风景区。4A景区:莽山国家森林公园、九龙江森林公园、万华岩(4A景区)地下溶洞奇观、汝城福泉山庄温泉、飞天山国家地质公园。特色景区有:可以到五盖山滑雪场~中国最南方的野外滑雪场滑雪、到高椅岭看原生态丹霞地貌、上仰天湖看大草原骑马、回龙山看日出和云海、滴水源生态旅游景区玻璃桥、王仙岭生态看瀑布。还有夏天去看稻田公园;体验井下的宝山矿山公园;体验本地风土人情板梁古村、小埠古村、阳山古村;市区有北湖公园、裕后街、龙女温泉、王仙岭、五岭阁公园、爱莲湖公园等。
What guests are saying:
"The decoration style is very good. I have n't seen the boss. I directly gave the password lock password. The communication should be a good person. The building just entered was a bit dark, and the decoration style was good after entering. The only major drawback is that there is noisy construction outside. House soundproof"