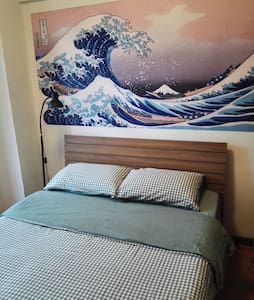 SUPERHOST
Private room · 2 guests · 1 bed · 1 shared bathroom
【老鸟家】宽窄巷子/文殊院/春熙路太古里/武侯祠锦里-日式榻榻米房间 metro line4
The old bird home is located in the town of Qingyang District, Chengdu Guanyin Court Street, No. 62, Mood for Love New Street on the 6th. 8 minutes walk to reach the width of the alley area, subway direct access to the three major railway stations, Chunxi Road, Pacific, Wuhou Temple Kam and Wenshu hospital. Old birds and tigers are a couple of Shandong, living with children for many years in Chengdu, although they are not locals, but the understanding and understanding of Chengdu is more than the local people. I hope you all come to Chengdu slow down, feel the slow life of Chengdu, let the body and mind are relaxed, to the tea house goods a tea, leisurely stay one day, you can taste a variety of food, hot pot, string, barbecue, snacks, so that your Stomach upstart, not afraid of hot friends can challenge the spicy of Chengdu Oh
What guests are saying:
"I was fortunate to have stayed at the old bird's house. The family was relieved to hear that they lived in the same house as the host's uncle and aunt. The uncle and aunt were very nice and amiable, and cleaned the house clean and tidy and very warm. It 's like staying home for two nights when I 've been out and playing for a week, because when I go back to my uncle and aunt, I 'm waiting for us at home, just like my parents are waiting for us. Thanks uncle aunt"
The apartment relies on the Golden Ring and enjoys three-dimensional traffic including the Metro Lines 3 and 7 and the Second Ring Road BRT station. Everything needed for life and work has created a 150,000 m2 open commercial district downstairs. 68 pioneering and interactive attractions, devising "Vendor Culture", "Marketing Tradition" and "Exotic Love" are both shopping paradise and a tourist attraction. A vertical city system is set up in the apartment building, and 360° complete apartment packages are carefully constructed. The 130-meter vertical city accommodates all functions of residence, work, life, leisure, fitness and education. Introducing the world's advanced lifestyle, an apartment is not only a warm harbour but also a place of entertainment and relaxation. The 39th floor exquisite ingenuity library, with beauty books and a large window outside the sky to accompany the company, do not have to travel, but also can do a wide range of world wide; top there can look up at the stars, overlooking the nebulae of the rooftop sky bar, for you and your friends Provide the best party occasions, with a 6 nights to 10 intimate meal delivery service! Boutique concept KTV, 1000m2 panoramic star terrace, enthusiast-class private cinema, make you and your family comfortable and happy!
What guests are saying:
"Miss landlord is especially good! The house is very good, although the location is not a popular location near Chunxi Road, but the travel is very convenient, it is also very close to Chunxi Road, and the location of the hotel is very convenient, from the zoo, giant panda base, Wanda, Chunxi Road Popular attractions such as Kuanzhai Alley and Happy Valley are close to the business district! The house is very clean and the property is very strict. If the girl lives, it is still very safe. The household appliances in the room are all available, even the laundry detergent and shampoo conditioner hair lotion! Daily paper towels, hair dryers, cotton swabs and toothpicks are all in the drawer of the TV cabinet~ Really a super warm heart!"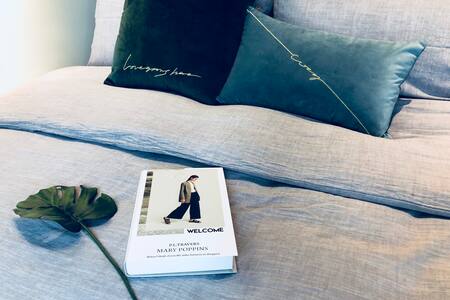 SUPERHOST
Entire flat · 2 guests · 1 bed · 1.5 bathrooms
好评如潮❤️VIP管家式服务‖地铁口房⑤分钟太古里春熙路东客站‖500兆宽带五星睡眠智能锁开放式厨房
来自疫情中高风客人需与我联络确认是否可预定。房间配有除菌喷雾、洗手液、消毒液等,只为您安心舒适入住❤️。【民宿位于一栋08年的电梯公寓,公寓外观稍显破旧,但民宿内绝不让你失望。公寓楼下是派出所,未发生过治安事件。】 【民宿位于】成都黄金地段,下楼就是地铁口(地铁2号线牛市口站C口) >离『太古里、IFS、春熙路』地铁五分钟直达 。离『火车东站地铁五分钟直达或15分钟车程即可抵达』。离『双流国际机场地铁可达或30分钟车程到达』,去任何成都市区景点都非常便利。 >楼下就是超市,周围网红美食环绕开心吃起来!民宿50平设有客厅、厨房和卧室 >智能密码锁、开放式厨房、USB插座、屋内500兆宽带、小米4K大彩电、格兰仕滚筒洗衣机、微波炉、全新空调、西门子大冰箱、微波炉、五星级酒店专用床垫...... >民宿提供消毒毛巾和浴巾、一次性牙刷、拖鞋、吹风机、牙膏、沐浴露、洗发水 >采用智能密码锁,密码一客一换。 >民宿提供一氧化碳报警器和灭火器(一次性)。为保安全,厕所采用门帘设计通风,民宿不提供调料,严格杀菌消毒,只为您的舒服。 入住民宿请保持干净,如有损坏物品,如床上用品染色,家具损坏等,须赔偿。
What guests are saying:
"The house is very nice. It is almost as described in the picture. It is also geographically very close to a subway station. Easy access to nearby scenic spots. And the landlord was very enthusiastic and answered questions very positively, great! !! But I hope the landlord can pay attention to the kitchen utensils. I personally feel a little dirty. Just sauce ~~"